Recruitment for a company is often a team effort; that's why LiveHire allows you to have multiple users on your Talent Community account. Make sure your recruiter and hiring managers are sourcing from the same talent pool by adding them as users to your account. Users have the same abilities as administrators for sourcing talent within the platform.
This article will cover Adding New Users, Re-sending Invitations to New Users and Suspending Users.
How to Add an Additional User:
1. Open the drop-down menu under your name.
2. Select Manage Users.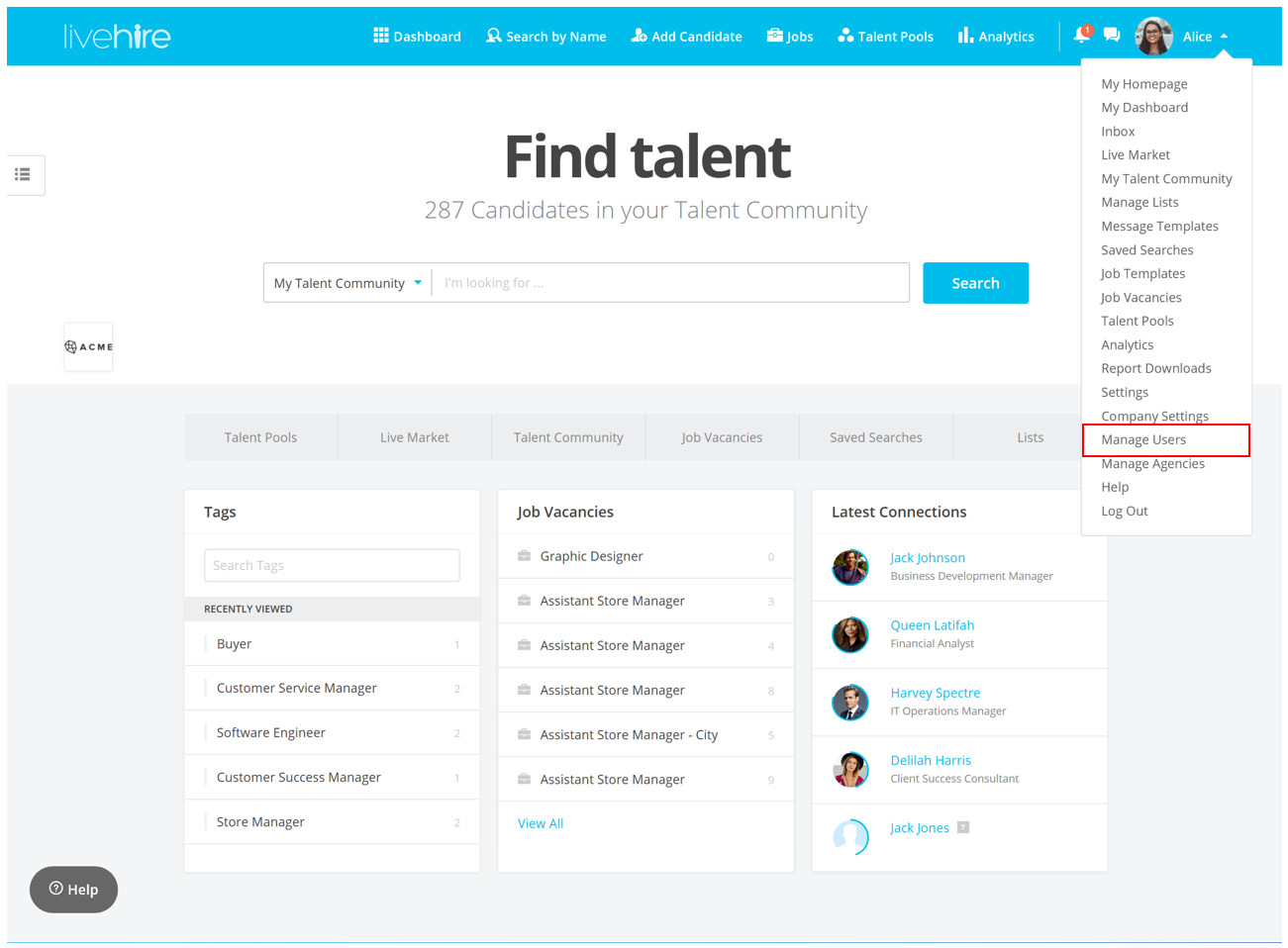 3. Click the Add User button.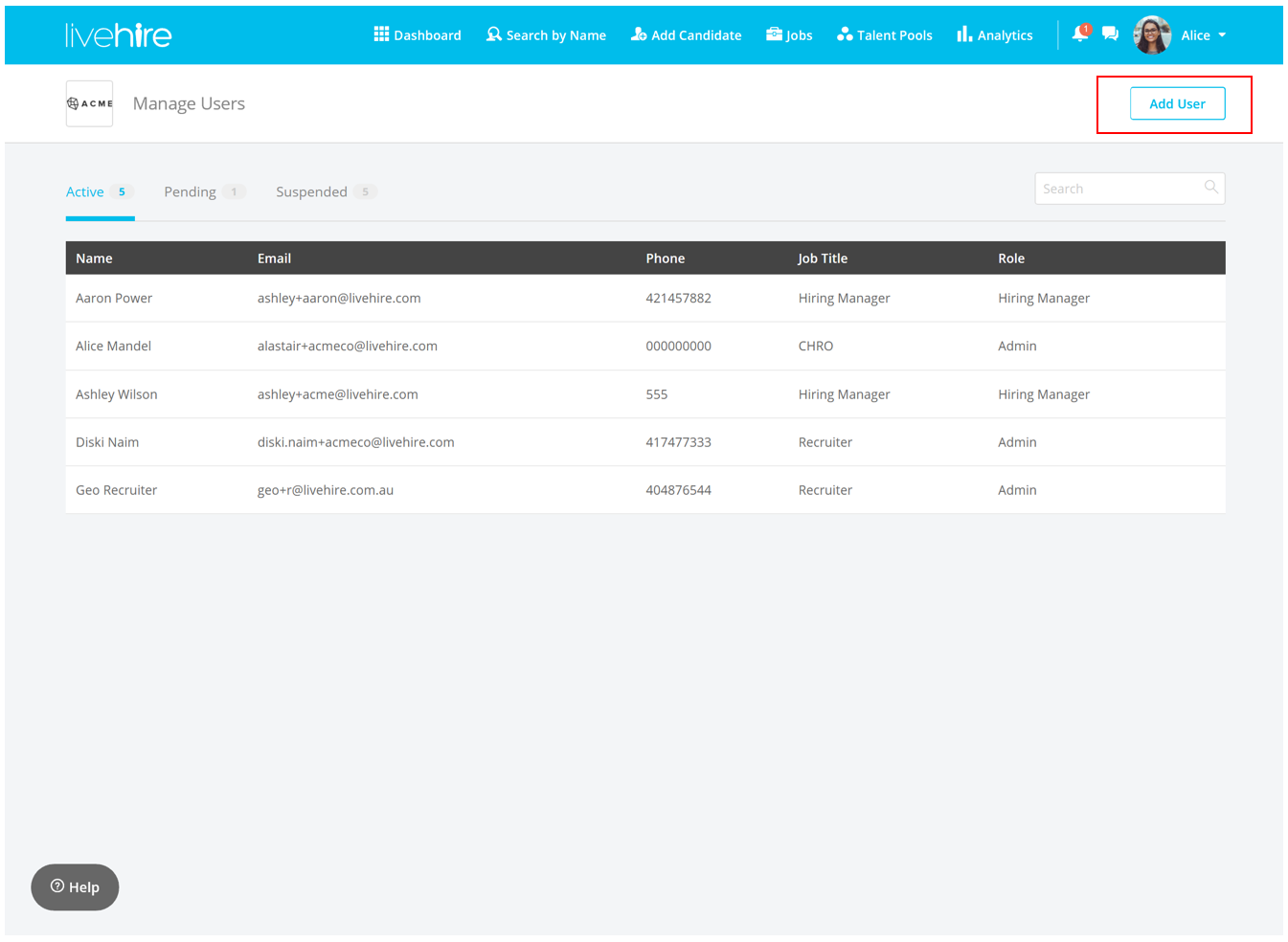 4. Add the following details for your new user:
First name
Last name
Job title
Phone
Email
Role type:

Admin: Admins have full access to the platform including all administrative functions for the company.
Recruiter: Recruiters have full access to the platform and can perform actions across all areas without restriction.
Hiring Manager: Hiring Managers have access to the jobs that they are a part of and can perform relevant job and candidate actions as defined for the company.
Note: Custom User Security Roles may appear in your view of this screen.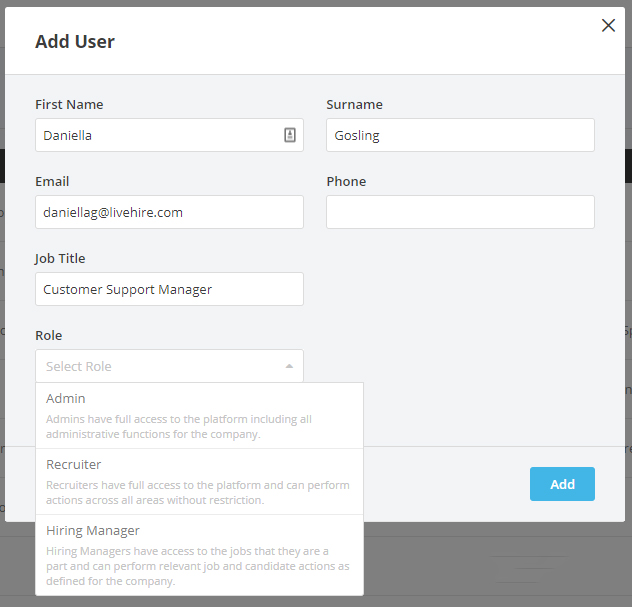 5. Select or deselect the Send invite email to this user.
Please note: Sending the email will invite the user to claim their account. If the user is only being added for reporting purposes then you don't need to send an invitation. Don't worry though, you can always send an invite later!
6. Click the Add button.
__________________________________________________________________________________________________________
If a new user has been created in LiveHire but they haven't activated their account, you may want to re-send the invitation to activate their account and set a password.
Re-sending Invitations to New Users
Open the drop-down menu under your name.
Select Manage Users.




Click the Pending Tab.


Now click the Resend Invitation button on the user you'd like to get activated.



Tip: If you're managing a high volume of users, you can use the Search bar to speed up the process for finding the user.


As much as it pains us to admit it, employee turnover is bound to happen. When one of your users exits the organisation, you'll need to suspend their user account to ensure they no longer have access to sensitive information.
Suspending Users
Open the drop-down menu under your name.
Select Manage Users.


From the Active Users Tab, click the 3 dot icon along the right hand side of the user and select Suspend.