Use job vacancy message templates to be more personalised when contacting candidates whilst maintaining productivity.
How to Use a Message Template in Job Vacancies
1. Go to Job Vacancies and select the job you want to message someone through
2. Find the candidate in the Job Vacancy
3. In the Candidate View, click on Status in the top right as you usually would for a status change
4. Change the Candidate Status to one of the Unsuccessful Job Statuses
Note: only templates that are set for that candidate status will be available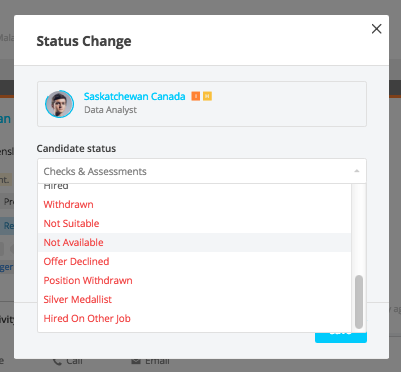 5. Click the Yes radio button for Notify This Unsuccessful Candidate
6. Click Select Template to select the template you'd like to use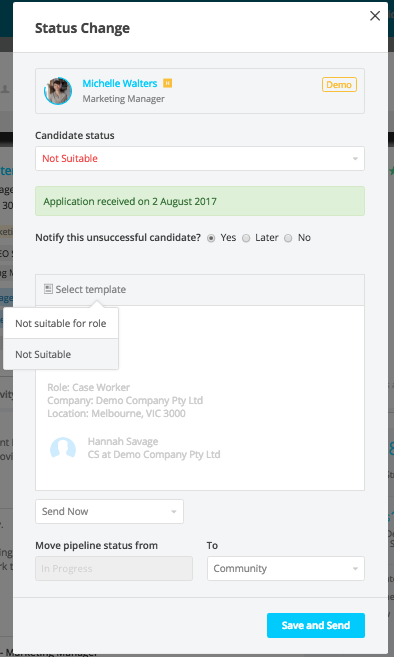 7. The template will now populate the text box including the merge fields chosen when creating the template. At this stage you can add any extra details or further personalise the message. We highly recommend doing so!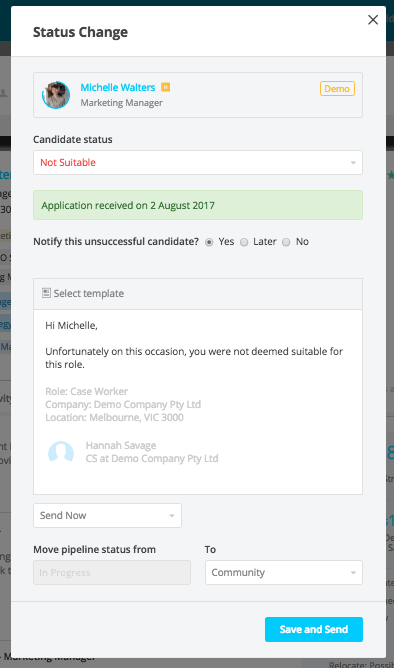 8. You can choose when to send the message:
Send now
Send after hours (The message will be sent after business hours to the applicant based on their timezone)
Send in 24 hours
9. Under Move Pipeline Status To select what status in the Talent Pipeline you'd like to candidate to move to after sending the message
10. Click Save and Send. The candidate will now receive this message at the time specified, and it will also appear in the activity tab on the candidate profile.
Don't have any Message Templates? Learn how to create them here.
Please note: only the templates that apply to the Job Vacancies will be available.