Searching and filtering within your company account allows you to find the candidates that fit your exact specifications. You can search for anything from a Hot Air Balloon Specialist in Sydney to a .INET Developer in Perth.
How to Search:
1. Sign into your LiveHire account and navigate to your Dashboard.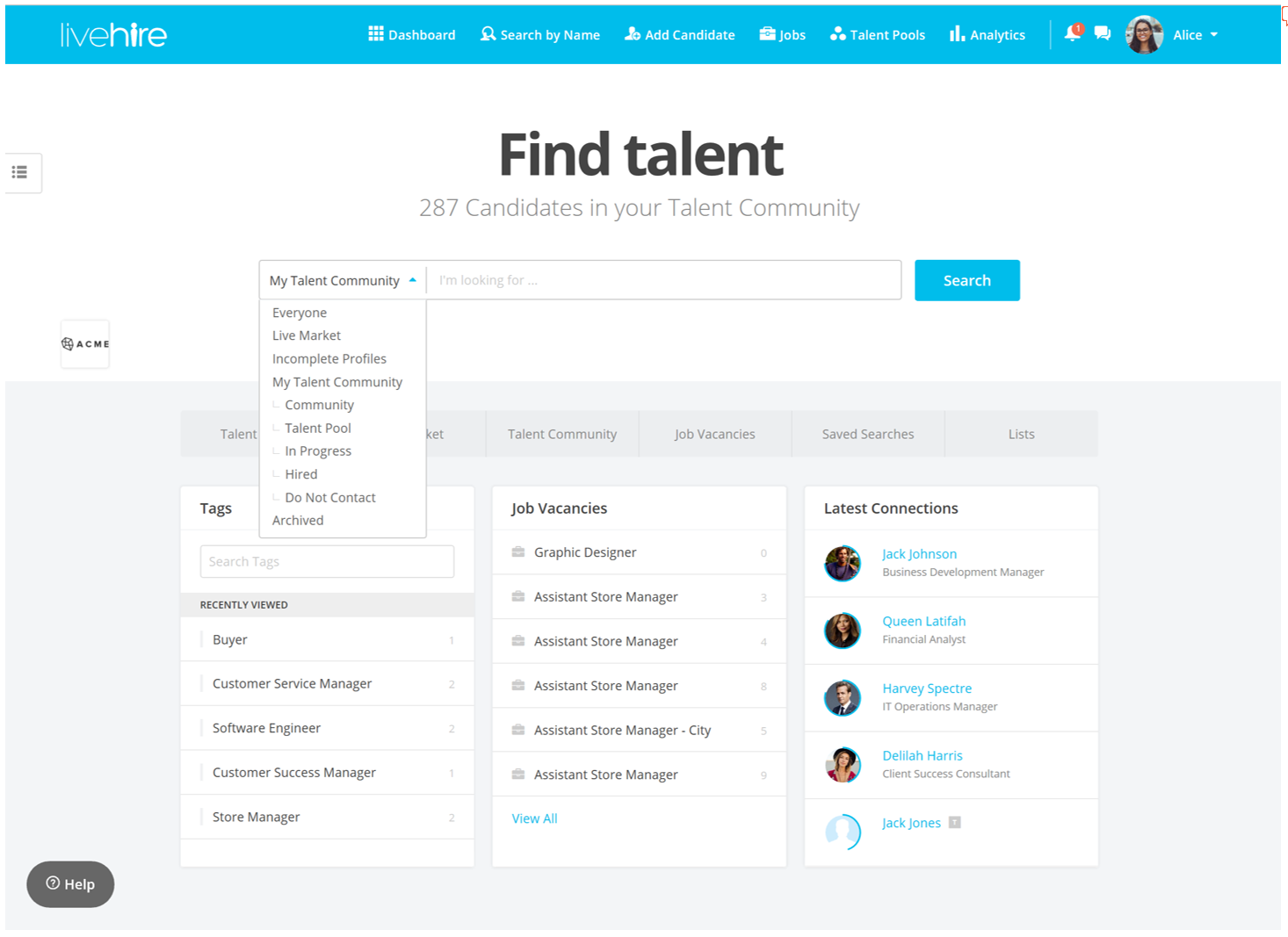 2. Type a keyword in the text box to start your search.
3. Select any relevant specialties or keywords from the pre-populated lists that appear below.
When selecting specialties take note of the number beside each search. This number shows how many people in the Live Market list that specialty on their LiveHire Profile.
4. Once you've added all your keywords and specialties click Search.
---
You're now ready to filter your search to find the perfect candidates for your company!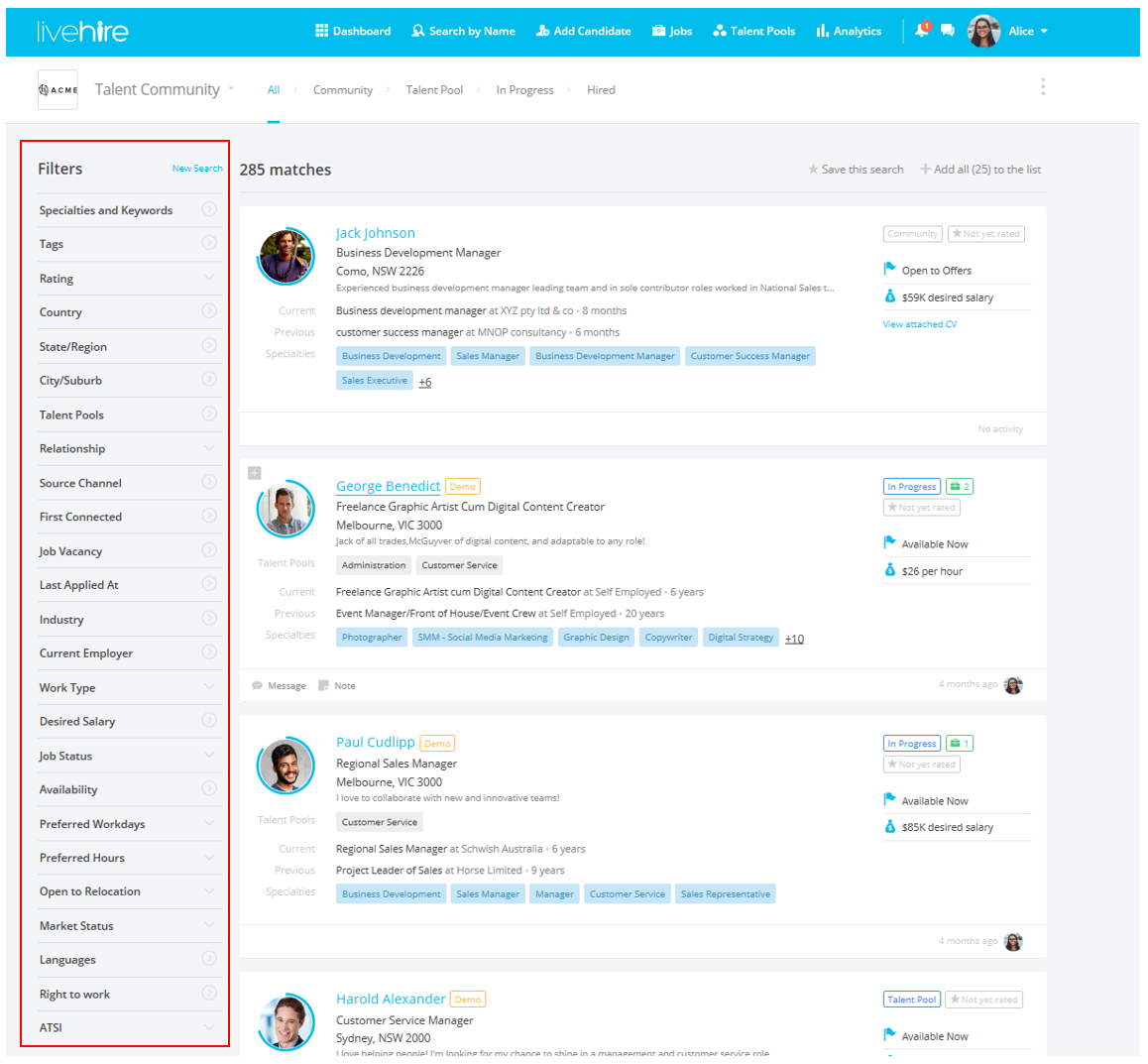 How to Filter:
1. Narrow your results by using the following filters at the left-hand side:
Specialties and Keywords: Narrow your results with additional keywords.
Tags: Search talent that have already been tagged.

Rating

: Search based on ratings that you've given candidates
Location: Select one or multiple locations.
Talent Pools: Find talent within specific Live Talent Pools.
Relationship: Filter by the talent that are external, internal, alumni or contractors.
Source Channel: Filter by talent that joined your Talent Community by a social channel, referral and more.
First Connected: Filter by talent that joined your Talent Community at a specific time.
Job Vacancy: This filter will show if any candidate has applied or been put against a job vacancy.
Last Applied At: Search based on when a candidate last applied for a job vacancy with your company.
Industry: Filter if you are looking for talent who have previously or currently work within a specific industry.
Current Employer: Find talent by their current employer.
Work Type: Narrow your results by talent looking for a specific type of work; whether they are looking for part-time, casual, full-time, contract, temp, volunteer, sessional or honorary.
Desired Salary: Set this filter if you have a budget on the salary for your job vacancy.
Job Status: Is your talent currently employed or open to offers?
Availability: This is your talent's notice period.
Preferred Workdays: The days your talent prefers to work - don't worry, this doesn't mean they won't be open to working other days!
Preferred Hours: The hours your talent prefers to work.
Open to Relocation: Your talent may be based in one city, but available to employment somewhere else.
Market Status: Are they currently in the Live Talent Market or only visible within your Talent Community?
Languages: Does your role require someone to speak a certain language? Use this filter to find them.
Right to work: Does your talent have the right to work in your country or do they require a visa?
ATSI: Aboriginal and Torres Strait Island peoples.
---
Searching Tips:
Start with the most filters and specific searches to find your ideal candidates.
Remove filters one by one. To remove a filter simply click on the filter name.
Navigate through the different stages of the platform to search your different Talent categories.

Use quotation marks around keyword searches to find an exact keyword match.